Get to Know About Astra Studio Service
Astra Studio is a Blockchain development company. The team behind Astra Studio are Blockchain solution developers. The team will develop Blockchain applications and Blockchain solutions upon your need.
The services that Astra Studio is providing are such as Blockchain services, Smart Contract, ICO and Token issuance. Astra Studio also has a Tokenization team and financial advisors that can advise you the solutions in order to fit your best interest.
Crypto Services Provider.
For those who wish to start crypto businesses e.g. Token issuance, DeFi, NFT and GameFi, we also provide you the Crypto Services Provider that will advise you on the steps that you will involve if you wish to launch crypto products. Our team will advise you on the matter as follows:
Digital Token Structuring.
This service will help you create token digital. You can tokenize things depending on your style. Tokenization is the process that digitizes assets by using Blockchain technology. You can develop various crypto services e.g. Utility Token, Investment Token. The Utility Token is a token minted for using and the Investment Token is a token minted for investing or funding. Our services will include Tokemonics design and other Use-Cases as well.
We also have a team to advise you on creating a GameFi (The game developed by Blockchain technology). The team will advise you on the step by step from the beginning e.g. design, Tokenmomics etc. in game. This service will help you develop the game effectively.
We also have a professional Blockchain team that provide NFT services starting from the design of NFT and other Use-Cases.
DeFi (Decentralized Finance)
At Astra Studio, we have a professional team to create the DeFi platform, issue Governance Token for your platform including other features needed to develop your platform.
Software House Services Provider.
The Software House Services is a service that provides software development, mobile applications, website, UX/UI pages for seamless use. There is a professional team that will advise you on this matter. Paving the way for your business to access more client and market opportunities.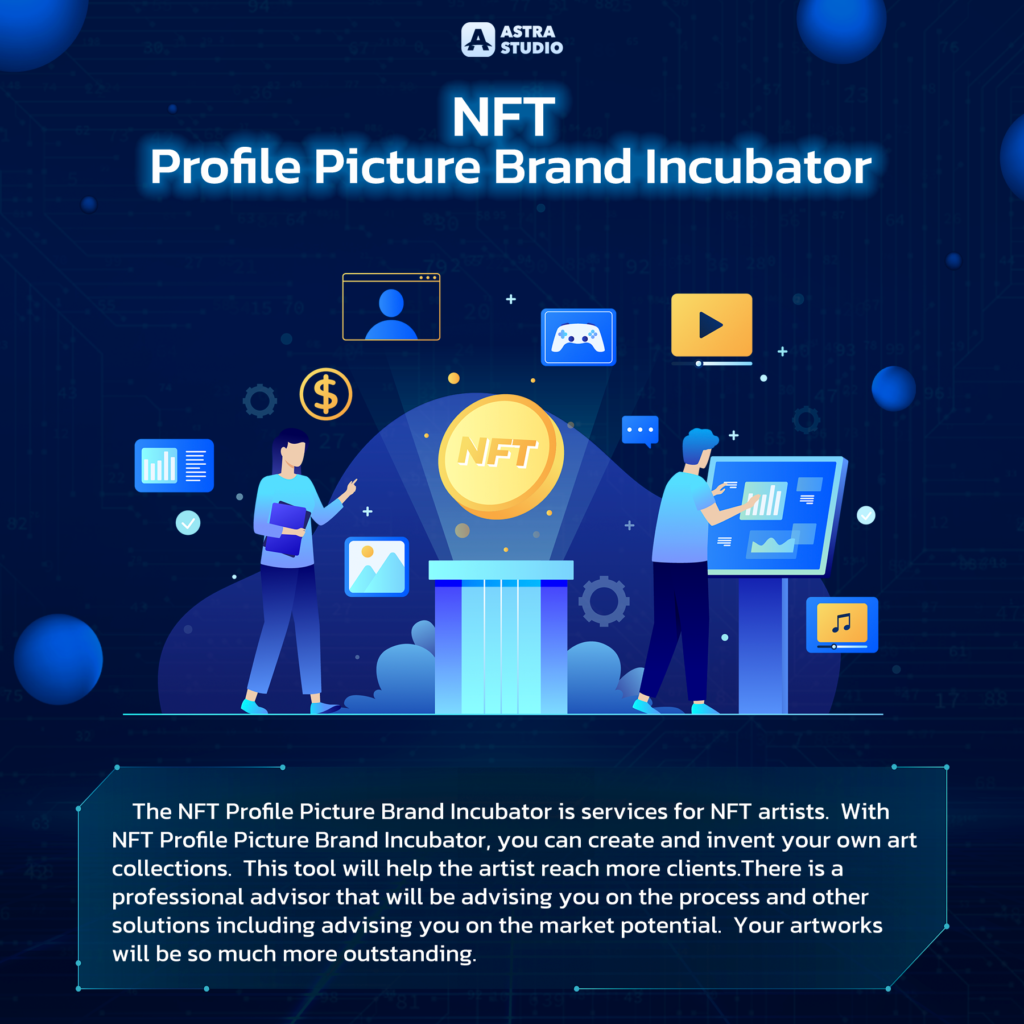 NFT Profile Picture Brand Incubator
The NFT Profile Picture Brand Incubator is services for NFT artists. With NFT Profile Picture Brand Incubator, you can create and invent your own art collections. This tool will help the artist reach more clients.There is a professional advisor that will be advising you on the process and other solutions including advising you on the market potential. Your artworks will be so much more outstanding.
As a leader in Blockchain technology, Astra Studio team hopes that our services will be your tipping point which help your business grow efficiently. We guarantee that you will have an exclusive experience by using our services.
Please make sure you do not miss any updated news by following our social media as follows:
Contact Us: Contact us
Medium: Medium Astra Studio
Website: Astra Studio